Easy Fish Soup in #15MinuteSuppers
This weeks 15 minute recipe is an easy one using left over fish from salmon night. This was inspired by an old favorite Thai recipe for fish soup my husband likes.
The recipe is easy, you are just using cabbage, a few herbs, Asian oils and salmon.
Easy Fish Soup in #15MinuteRecipes
Author:
Cook time:
Total time:
Ingredients
2 cups cooked leftover flaked salmon
1/2 cabbage shredded
2 tablespoons red chili oil
2 tablespoons garlic paste
2 tablespoons ginger paste
4 tablespoons chili & garlic paste
Instructions
fill medium stock pan half way with water and add all herbs and sauces. Let simmer and toss in cabbage. Let cook for 10 minutes and add left over salmon. Let simmer for 5 minutes and serve immediately.
Need more quick 15 minute recipe ideas? Check out these other great #15MinuteSuppers!
Follow 15 Minute Suppers on Facebook | Twitter | Instagram | Pinterest
and look for the #15MinuteSuppers hashtag too!
Head over to our #15MinuteSuppers Pinterest Board to see all the past recipes and more delicious goodness!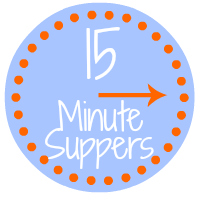 BLOGGERS: Would you like to join us at #15MinuteSuppers? We'd love to have you! Please check out the 15 Minute Suppers website or ask to join the Facebook group (for bloggers) to participate on Fridays…we'd love to have you join us.