Wholly Guacamole Beef Tortas #15MinuteSuppers #OMGuac
This post contains sponsored/review content. Products were provided for this review and recipe
This weeks 15 minute recipe is brought to you by Wholly Guacamole! Since we are a Hispanic/biracial family we LOVE avocado. It's a staple item in my kitchen but I have not used Wholly Guacamole products prior to this review. I just never really thought about it because i typically make salsa and dips by hand when we use them. Let me tell you though, handmade dips and salsa can take a long time.
I was pleasantly surprised how quick this recipe was and everything came together well with the addition of the Wholly Guacamole products.
It was hard to decide which Wholly Guacamole products to use but once I made the choice I knew it was the right one. this recipe took 15 minute start to finish!
Wholly Guacamole Beef Tortas #15MinuteSuppers
Author:
Prep time:
Cook time:
Total time:
Ingredients
4 pieces of torta bread or bolillos
1 pound ground beef
1 package spicy wholly guacamole avocado
1 package mild wholly guacamole salsa
chili powder
cumin powder
salt
Instructions
Fry ground beef and add seasonings. While ground beef is cooking slice bread length wise and toast. top bread each half of bread with the avocado, add ground beef and top with the salsa.
Wholly Guacamole helps families get dinner on the table faster. The products are always fresh and delicious. There is plenty of variety from plain to spicy. There's salsas, dips and more. Plenty of products to create interesting meals every night of the week fast.
What I really liked most about the products is that they don't taste watered down or fake. A lot of times when you purchase avocado products that are packaged they don't taste right but Wholly Guacamole got it right with their process because you really cannot tell the difference and its like eating a freshly cut avocado right from the tree.
Make sure to like Wholly Guacamole on Facebook, follow them on Twitter @eatwholly
Need more quick 15 minute recipe ideas? Check out these other great #15MinuteSuppers!
Follow 15 Minute Suppers on Facebook | Twitter | Instagram | Pinterest
and look for the #15MinuteSuppers hashtag too!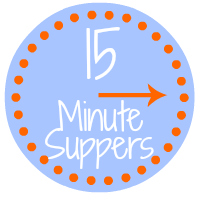 BLOGGERS: Would you like to join us at #15MinuteSuppers? We'd love to have you! Please check out the 15 Minute Suppers website or ask to join the Facebook group (for bloggers) to participate on Fridays…we'd love to have you join us.
Disclosure: This is sponsored recipe for Wholly Guacamole through 15 Minute Suppers. Recipe & opinions are my own.