Oh me gosh ladies I am so excited for this giveaway! So excited that I think I need to go make some new babies right now (because my youngest is 10) so I can enter this giveaway!  There is a lot of goodies in this giveaway and one very lucky mommy is going to walk away a very happy woman.
Whether being hounded by the paparazzi (parents with cameras) or mobbed by fans (cheek-pinching relatives), every baby is a rock star! In Rockin' Babies, Dr. Jenn Berman and Cynthia Weil re-imagine the rock 'n' roll lifestyle in child-friendly fashion. Galia Bernstein's colorful illustrations, complete this charming book. Perfect for cool parents and hip babies.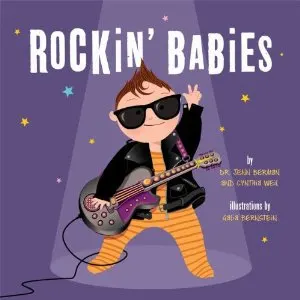 With Great Gratitude to our sponsor: Rockin' Babies
All your favorite bloggers have teamed together to bring you an ULTRA-cool swag bag featuring Rockin' Babies.
Swag Bag includes:
2 non-toxic Rockin' Babies Tattoos
Rockabye Baby transforms timeless rock songs into beautiful instrumental lullabies. Guitars and drums are traded for soothing mellotrons, vibraphones and bells, and the volume is turned down from an eleven to a two. Rockabye Baby is the perfect way to share the music you love with the littlest rocker in your life.
1 DVD of Baby Signing Time! and one CD of Signing Time! Volume 1-3 I highly recommend these DVDs for parents to learn sign and also for children over the age of three.
Your baby can communicate with you before he can talk. Children learn to point, wave goodbye and blow kisses before they speak. Your child uses gestures to communicate while his verbal abilities catch up with his intellectual abilities. Baby sign language enables your child to tell you if he is hungry, thirsty or needs a diaper change. Baby sign language research suggests that infants who use sign language speak sooner and score higher, when tested after second grade. Baby Signing Time encourages signing and speaking together. Children hear the word, see the word, say the word, and model the word with their hands. You do not need to become fluent in baby signing, even learning a few signs like 'milk', 'more' and 'diaper' can help. Baby Signing Time teaches American Sign Language signs because if you are going to learn signs, you should learn signs for a real language rather than a made up signs. Learning ASL will enable your child to communicate with thousands who are hard of hearing or deaf. ASL signs are natural, easy and fun for babies.
1 box Trumpettes socks (6 pairs!)
1 pair Baby Banz
Baby Banz were originally designed in Australia for one of the world's toughest UV environments. Clinically tested by one of the world's leading authorities on sunglasses, Baby Banz have passed the most stringent standards on sunglasses in the world.
1 full size package of Boogie Wipes, two mini samples, a Boogie plush toy and coupons
Boogie Wipes are made with natural saline to dissolve boogies (mucus) caused by the common cold, allergies or otherwise booger-filled kid moments.
Extra soft, alcohol, phthalate and paraben free, Boogie Wipes are available in Great Grape, Fresh Scent, Minty Menthol and Simply Unscented. Recommended by pediatricians as a gentle, effective alternative to a dry tissue.
2 pairs My Little Legs
1 Personalized Pacifier with a saying like "Rock On," "Rock Star," "Rock On," and others.
Personalized Pacifiers™ are the perfect choice for your baby. Our products are made of non-toxic, hygienically formed, natural bite-resistant materials designed to form naturally in the mouth, satisfying babies' need for supplemental sucking and providing parents with peace of mind.
1 pack Silly Bandz RockBandz shapes
RockBandz Silly Bandz pack of 24 includes: Mic Stand, Rocker, Rock Handz, Guitar, Drums, and the word ROCK!
2 bottles Piggy Paint nail polish
Piggy Paint is a natural, eco-friendly nail polish designed for fancy girls. Its non-toxic, hypoallergenic formula makes it safe to use on all piggies.
Piggy Paint dries to a hard, durable finish that can easily be removed with our eco-friendly, low odor Piggy Paint nail polish remover. Both are made in the USA!
Available in an assortment of gift sets perfect for Holidays and other special occasions. Say good-bye to harsh, smelly chemicals and hello to Piggy Paint…it's as Natural as Mud®!
Rock in Green laundry and cloth diaper detergent
Our detergents are safe for you and the enviro- ment. Rockin' Green is: Dye free, Comes in several yummy scents (& an unscented version for sensitive skin), No fillers, No enzymes or optical brighteners, 100% Phosphate free, Vegan, Great for sensitive skin and much much more
1 pair Sourpuss skull and cross bones socks
1 set of 3 Delta Adjustable "Grow with Me" Hangers
RULES: Contest is open US ONLY. No purchase necessary. The winner will be selected by random.org and notified by email, and will have 24 hours to reply back before a new winner is selected. Giveaway ends Friday, September 21, 2012 at 11:59 PM EST. You Must be 18+ to enter this contest. Contest is in no way associated with Facebook.
Enter for your chance to win using the form below: Only Mandatory entry is to leave a blog post comment answering "Why you want to win this amazing prize pack" All other entries are OPTIONAL and may give you better chance All entries will be verified.
Emily's Frugal Tips is not responsible for prize fulfillment.